The Laurentian Valley hosts a successful fourth annual ice fishing derby
Return to video
Organizers said the lake conditions and weather were the best the event has enjoyed to date, attracting the largest number of participants ever with 115 anglers of all ages hitting the ice.
A group photo of some of the younger participants in the fourth annual Laurenitan Valley Ice Fishing Derby.
Madison Coulas took first place in the longest fish category, followed by Molly Coulas in second and Josh Nokes in third, fourth and fifth.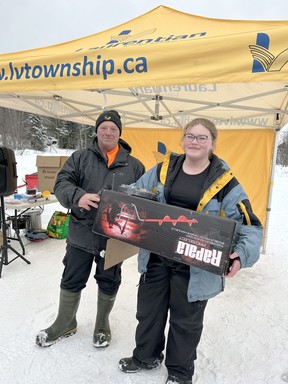 Volunteer Rick Klatt presents first place winner for longest fish, Madison Coulas, with her prize, a new ice auger.
For the fourth year in a row, the organizers thank Rick Klatt for putting in many hours as a volunteer to ensure the success of the event.
"Rick is a huge supporter of outdoor education and fun, and we're proud to have him on board to put on this great LV event," organizers said in a press release. "Thank you to Councilor Betty King for helping prepare the free lunch! We appreciate the time and preparation provided by neighboring resident Andy Molson to prepare trails and prepare the lake for the event. Your willingness and openness is greatly appreciated to support this event. Also, a big thank you to all the volunteers who came along on the day to help set up and tear down the event, as well as greet attendees on arrival and during lunch. Your Faces kind words and your helpful hands contribute to the success and enjoyment of the day."
The ice fishing derby was sponsored by Reiche Law, Valley Dumpster Inc., Brandon Beaulieu Century 21 Sales Representative, 86 Bistro and Market, Clean and Creative Lifestyle Co., Ottawa Valley Sports, Bright Eyes and Bushy Tails, Tommy Serran , financial advisor for Frank Carroll Financial, Mike Teat Valley, window and door sales consultant, Western Financial Group, Stone Moss Construction and The Pickle Vixens.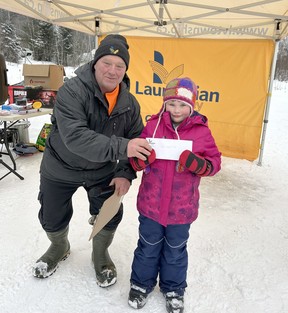 Molly Coulas caught the second longest fish of the day and is presented with her award by volunteer Rick Klatt.
The organizers also thanked Center Scolaire Catholique Jeanne-Lajoie Elementaire and CSC Jeanne-Lajoie Pavillon Secondaire for donating hot chocolate, coffee and Timbits that our derby fishermen enjoyed.
"We appreciate everyone's commitment to the township and appreciate all of your support! The success of the event owes so much to the wonderful contributions of our great community. We are delighted to have been able to host this event for our community despite warmer weather conditions as Lemke Lake thankfully still offered more than a foot of ice surface," organizers said.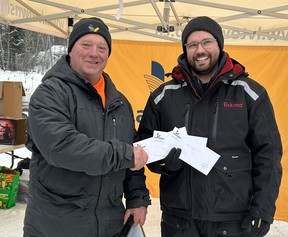 Josh Nokes, right, caught the third, fourth and fifth longest fish during the Laurentian Valley Ice Fishing Derby. Pictured is event volunteer Rick Klatt presenting her with her award.
Laurentian Valley is already looking forward to hosting the event again in 2024.