When the temperature starts to drop and the cold starts to set in, anglers know it's time for only one thing: ice fishing! Ice fishing is an incredibly popular activity during the winter months, especially in Wisconsin. Wisconsin is known for having some great places where you can drop your line and catch some great fish. However, if you are not familiar with these areas, you may be looking for some tips on where to start ice fishing. Or maybe you're tired of going to the same lake every winter and are looking for a change of scenery. No matter what you're interested in, we have a comprehensive list of the best ice fishing lakes in Wisconsin.
Anglers who enjoy ice fishing know that there is no other feeling like getting up early, heading to your spot and waiting for the fish to bite. So if you're excited to get started, check out some of the best ice fishing lakes in America's Dairyland.
Green Bay
Our list starts with one of the most popular options: Green Bay. Green Bay is a magnificent basin of Lake Michigan. The body of water is incredibly large at 2,000,000 acres and is one of the most popular ice fishing spots in the country. Because Green Bay is such a large body of water, you're going to run into some pretty big fish. The area is known for some pretty big walleyes. In addition, you can also catch white fish. There are other fish that swim in these waters as well, such as largemouth and smallmouth bass, yellow perch, pike and rainbow trout, just to name a few.
However, if you have never ice fished before, this may not be the most beginner-friendly lake. The lake can actually be quite dangerous as large pressure cracks can cause the ice to shift and curve. Keep this in mind if you plan to hike here. Be sure to get a bathymetric map and look for places where the water is at least 20 to 30 feet deep.
Wisconsin ice anglers head to Green Bay because of the abundance of lucid and whitefish you can catch here.
Lake Winnebago
As the largest lake located in Wisconsin alone, Lake Winnebago is known throughout the country as a great fishing spot. Ice fishing on Lake Winnebago is an incredibly popular excursion with locals and out-of-towners alike. One of the main reasons many anglers head here is because of how huge it is. This means there is plenty of room to spread out.
There are tons of easy access spots all over the lake and plenty of bait shops as well. You will have the opportunity to catch some pretty great fish such as walleye, white bass, perch, lake sturgeon, panfish and pike. One thing to keep in mind is that as the winter wears on, many of the fish begin to move into the main basin of the lake. If you're willing to make the effort to drill holes and walk around the lake, you'll find tons of fish under the ice.
Anglers from all over the country come to Lake Winnebago for ice fishing.
Dairyland Depot
If you're looking for one of the best ice fishing spots in Wisconsin, look no further than Dairyland Reservoir. Dairyland Reservoir is an 1870 acre lake located in Rusk County. What makes it such a popular choice for ice anglers is that it's technically part of a river. Being part of the Flambeau River, this reservoir is filled with tons of fish. You will be able to fish for pike, walleye, pike, bass and bluefish. However, the area requires a catch and release requirement for bass, so keep that in mind. This area is especially busy on weekends with anglers hoping to catch big pike. So be prepared to share the ice with others. If you're looking for a more private experience, try checking out Dairyland Reservoir on weekdays.
During the winter months, anglers will head to Dairyland Reservoir to catch plenty of walleye and walleye.
Green Lake
Also known as Big Green Lake or Big Green, Green Lake happens to be one of the deepest lakes in the state. The lake reaches a depth of 235 feet and is 7,920 acres. This means there is plenty of open space here for you to enjoy ice fishing. The ice here is generally ready for ice fishing by the end of January. There are a lot of fish that you can catch here, such as pike, pike, bluefish and pike.
However, the fish that everyone comes to Green Lake for happens to be the white bass, as they are found here in abundance. It is important to note that the size and depth of this lake mean that this is not necessarily a novice's paradise. The fish that swim around here are on the bigger side so you should come prepared to do just that!
Lake Boom
Boom Lake is a 365-acre lake located in Rhinelander's Oneida County. This lake is on the smaller side and only about 30 feet deep. However, despite its small size, it is a popular spot for ice fishing. In fact, the weekends here are quite chaotic due to the amount of anglers that head to this small lake. Hodag Country, which is where this lake is located, is truly known as the ice fishing capital of the world. There are many fishing tournaments taking place in the area as well as tons of lodging and amenities in the area if you plan to stay more than a day. Some of the fish you can catch here include walleye, bass, northern pike, muskie and panfish.
The boat launch area offers easy access to many of the best ice fishing areas here. If you're on the north end of the main lake, you'll find shallower water. However, as you get into about 17 feet and about 21 feet, you will find two holes present where you will find many bluegill and crappie fish.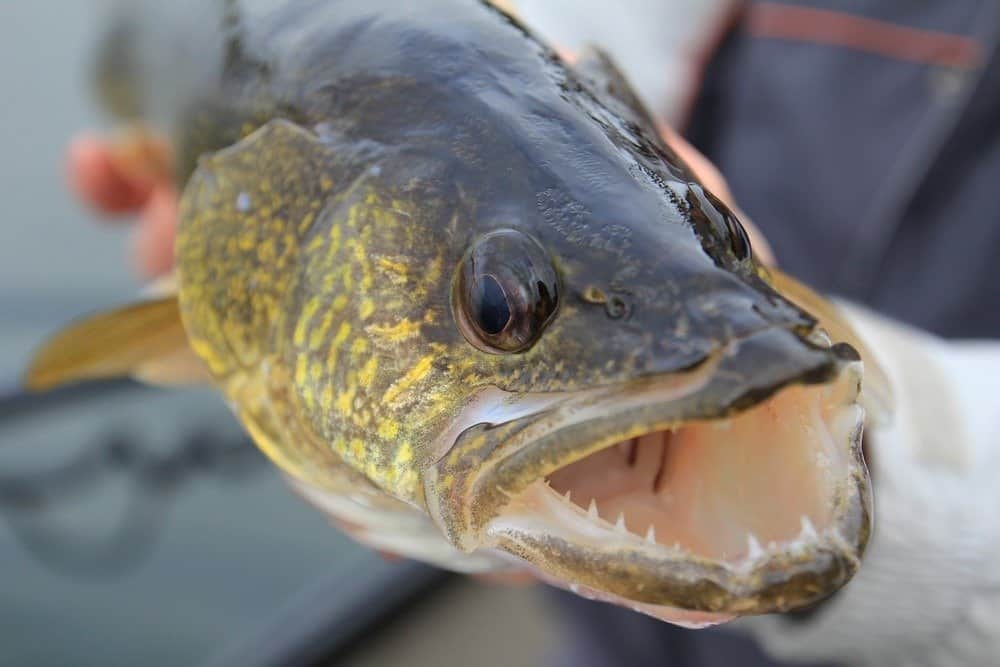 This lake is located in the Hodag Country, which is known as the ice fishing capital of the world. Walleye is one of the types of fish you can catch here.
Madison chains
Madison's chain of lakes, including Lake Mendota, Lake Monona, Lake Waubesa, Lake Kegonsa and Lake Wingra, are some of the best options if you're interested in ice fishing. All five lakes are unique and will give you a different ice fishing experience. The lake area usually freezes around late December or early January. Once the lake freezes over, you can usually expect to be able to fish until the end of March. Lake Mendota is the largest of the Madison chain of lakes. This lake is 9,781 acres and reaches a depth of 83 feet. It is known for having tons of perch, pike, walleye, bluegill, bass, walleye and catfish.
Lake Monona is another deep lake with a maximum depth of 74 feet. In the center of the lake, you will find several holes 70 feet deep. Because much of the water in this lake is shallow, it is home to a large population of fish, including bass, pike, and walleye. Lake Waubesa is 2074 acres and is also another shallow lake with the deepest hole being 36 feet. Here you will be able to catch plenty of bluegills, walleyes and bass. Since the lake is smaller, it also freezes quickly.
The Madison Chain of Lakes includes five different lakes that are diverse and unique bodies of water.