In a world where bad news seems to dominate the news headlines day after day, the outcome of this year's 33rd annual Brainerd, Minn., Jaycees Ice Fishing Extravaganza was nothing short of heartwarming. Hailing from Hutchinson, Minnesota, 13-year-old Zac Padrnos battled a 9.45-pound walleye to best the field of nearly 12,000 anglers to claim the top prize.
Nearly 12,000 anglers converge on Gull Lake to compete for nearly $275,000 in prizes and raffles at the 33rd annual Brainerd (Minn.) Jaycees Ice Fishing Extravaganza. With an impressive total of 14,300 holes drilled the night before, contestants must break through the ice with hand tools before they can fish.
The Extravaganza, held on famous Gull Lake near Nisswa on Saturday, January 28, 2023, is billed as the largest ice fishing tournament in the world. Anglers from across the country, the state of Minnesota and the Brainerd/Baxter area piled on 15 inches of ice to win a grand prize Ford or GMC pickup truck, including a cut of nearly $275,000 in prize money.
"This is my second time fishing this event," said the younger Padrnos. "I'm here with my dad, grandpa and uncle. We've had a great time together; it's fun to get together and go ice fishing, but today was especially fun."
Padrnos was all smiles as he joined staff and hosts on the Ice Center's big stage to talk about his day. Local radio show personalities and Brainerd Ice Fishing Extravaganza Chairman Tad Johnson asked Zac which truck he was planning to pick, and he quickly replied, "I'll go with the Ford."
"His great-grandfather drove a Ford, and both grandfathers on both sides drive Fords, as does his uncle, and so do I. It's definitely a part of our outdoor family tradition, a big part of it." , said Zac's father, Eric. "Although he would like to keep the truck, after some discussion we decided to sell the truck and keep the money for his future. Zac is part of the school's cheating team and he plans to buy a nice shotgun and wants to save the rest for either his first vehicle in a few years, school tuition, or both."
Last year, Padrnos competed for the first time, but didn't catch a single fish, which usually happens in more than 80 percent of the field on an annual basis.
"I caught a whitefish earlier that day that might have gotten me the money to start with," he said. "But when that big snapper came through the hole, I knew it was a special fish, definitely one that would help me finish high on the leaderboard."
Padrnos' winning lyucoma fell victim to a pink and white tungsten jig dressed with a wax worm, a classic northern ice fishing rig.
"We were fishing in 55 feet of water when the walleye showed up on my electronics in 30 feet," he said. "I took my bait up to level with the fish and it ate it. The fish became temporarily entangled and my uncle reached into the water to free it and pull it out down the hole. People all around us were cheering and clapping. , and it sure was an exciting time."
For Zac and his accompanying family and friends, fishing the Extravaganza is a family tradition.
"Zac's grandfather Greg Holtz, his uncle Chris Holtz and his late great grandfather Alvin Holtz fished the first contest 33 years ago," said Eric Padrnos. "Over the years, our group has ebbed and flowed with as few as three anglers and as many as 12; there have only been two years where someone from our crew couldn't attend. It's something we look forward to every winter."
Over the years, the group has reached the payouts a few times, with the highest placing being 12th place.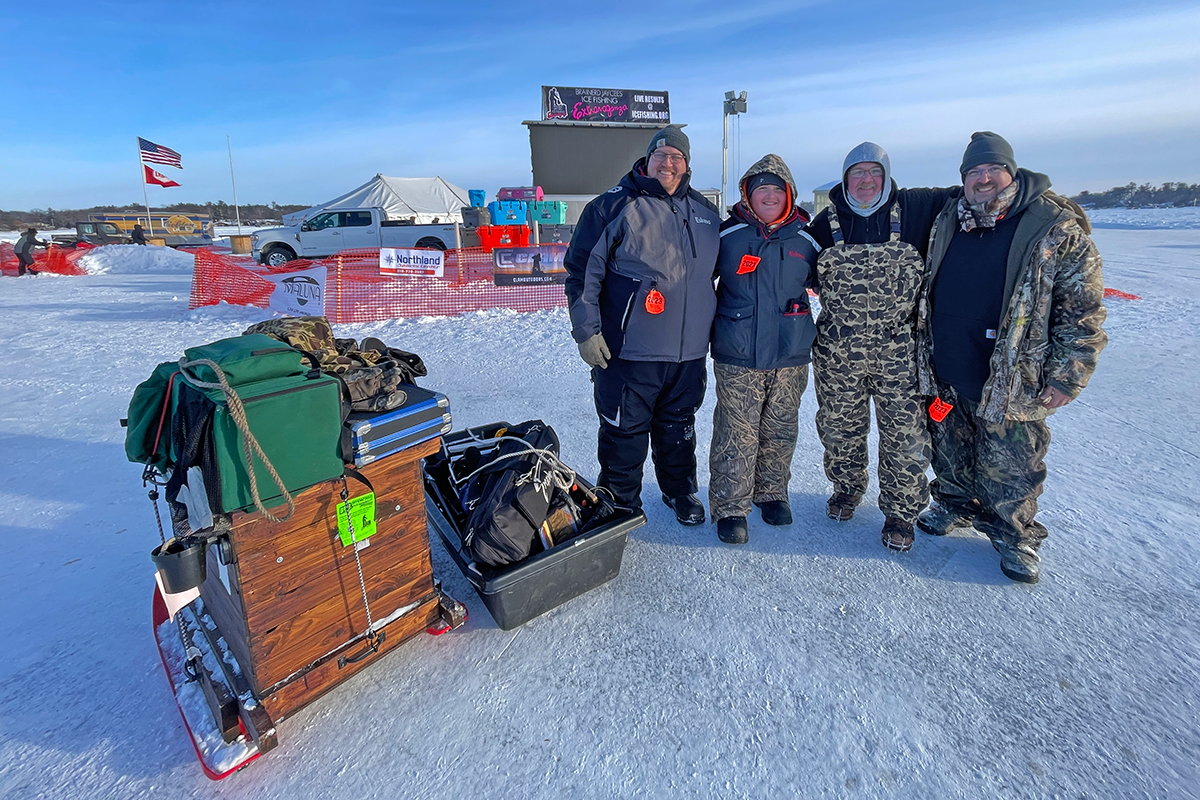 The outdoor family tradition runs deep with this crew. From left: Eric Padrnos (father), Zac Padrnos, Greg Holtz (grandfather) and Chris Holtz (uncle).
"Zac and I spend over 300 hours a year fishing together, often with additional family members," said Eric Padrnos. "We try to get out at least once or twice a week, he's an avid angler with a dozen walleyes over the 26-inch mark – that's his new personal best. That fish was a team effort for sure, find a family friend the place his uncle chris caught the fish it was great when we realized how big it was we all started shaking and hugging and cheering we've spent a lot of time in other tournaments over the years and we never expected to catch him. one like that."
Three generations of lifelong ice anglers were on the ice that day representing a tradition that shows no signs of slowing down. What a great story about family tradition, fishing and the outdoors.