A recent slug of rain and a full moon had a funky high tide backed into the marsh northeast of Buras, Louisiana. Captain Davey Miles of Cajun Fishing Adventures was doing his best to keep us in the fish—and today that meant sheepshead, small flounder, catfish. We needed green water, not this dusty brown, and we yearned for the parade of huge redfish the area is known for.
The proven local pattern, a live shrimp under a popping cork, was good for a bent rod, but today not yielding the big bite.
Miles' instinct was sound: Find what little current the Gulf would give us. Miles ran his 23-foot Skeeter bay boat to a grassy point off one of the many islets in the bay—looked like hundreds of other points, but Miles knew this spot. "There's a bar that stretches out a few hundred feet here—it used to be land," he said. "You can see it at low tide."
There was a hint of water movement passing around the point.
I tied on a 4-inch Berkley Juke, a lipped plastic. The lure dives 3 or 4 feet on the retrieve, and as it rolls and swings, it mobilizes an internal rattle. Not going to get a sheepshead's interest, not likely to catch the flounder, less likely to be intercepted by Mr. Whiskers—but with its flashy, coppery body and rhythmic motion, a strong come-hither for redfish.
My selective aspirations, combined with Miles' choice of venue, soon resulted in a healthy thump at the end of my 15-pound braid. After a 15-minute, round-and-round the boat battle, I had a Gulf-bright redfish of 36 inches to the boat.
When I think of plug fishing on coastal waters, that episode is a fairly typical scenario that comes to mind. At one end of the spectrum, we might have clear, still water and visual feeders like reds or snook in our sights—the kind of place where you want to cast something very small and seductive, like a soft plastic shrimp or fluke. You know exactly where you're casting, and what's there. At the other end, we could be fishing dirty water where the scent of a chunk bait or the irresistible, eventually-gonna-catch something appeal of a live bait is the better choice.
Plugs, in my book, are the answer for covering water in search of quality fish. They allow us to cast long distances repeatedly, with no degradation of integrity as might be experienced with soft plastics or natural baits. You can cast, cast and cast some more. On an off-tide day, or in unfamiliar waters, putting a lure in front of enough fish can be the key to success. It's a numbers game.
Redfish caught on Rapala X-Rap Saltwater SubWalk, which does what the name implies: "walks" beneath surface. Inline single hooks standard on this lure; easier to remove if a red takes the lure deep, which happens sometimes.
Plugs come in many styles, shapes, sizes and color patterns. You could pick something to match the prevailing forage, or something else with attractor characteristics. Bass fishermen classify plugs—a.k.a. hard baits—into extremely detailed categories, subdividing crankbaits into square bills versus round bills, flat-sides, lipless, and others.
×
For the saltwater fisherman, the general distinction is: Diving plug or surface plug? Does it run beneath the surface or skim the top? A lip implies diving—as the lure is reeled, the lip digs and carries the lure down. Buoyant "floater-divers" will surface quickly when motion is halted. Suspending lures—of which the aforementioned Juke is an example—will hold their depth for an extended time. The bigger the lip, the deeper the swim. Some models will get down 15 to 20 feet or more. But not all diving plugs have lips—some are straight "stickbait" or "twitchbait" types animated by rod action.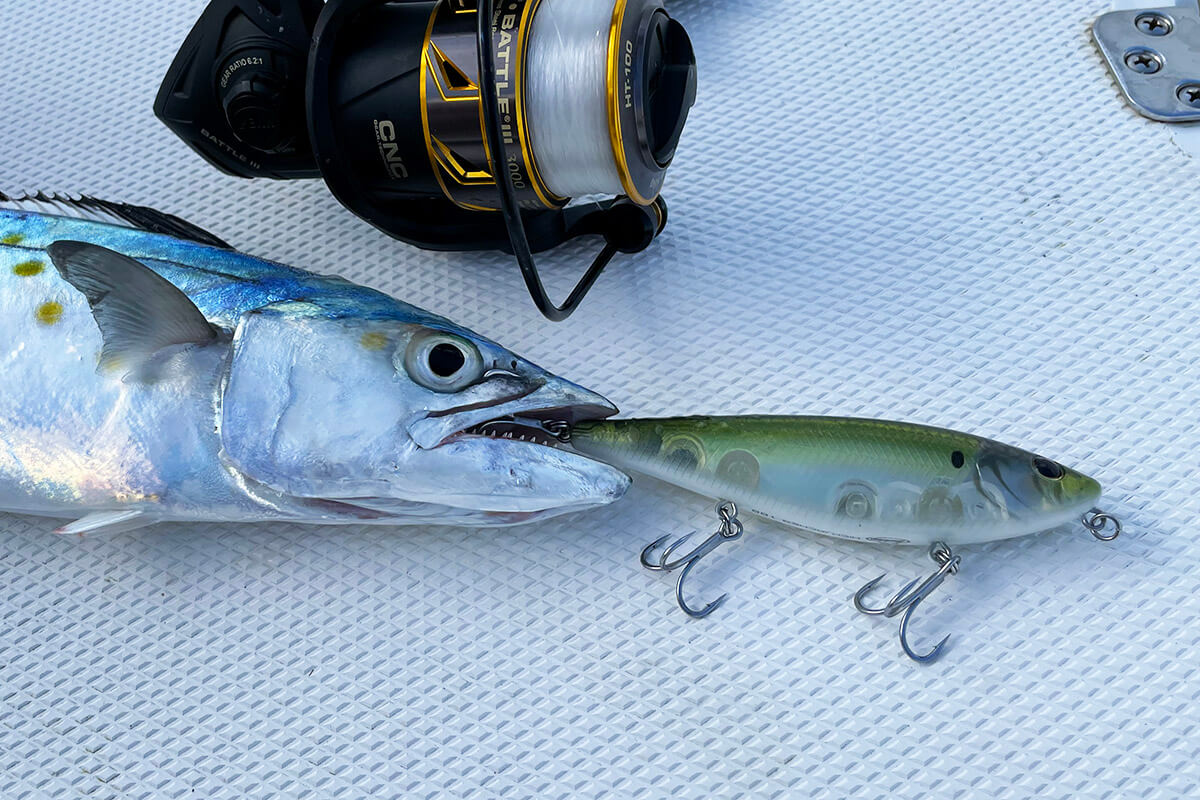 Berkley Stick Shadd, a suspending twitchbait. No lip; the lure dives 3-5 feet on relative buoyancy alone. (Mackerel often prefer baits below the surface.)
Diving lures are very handy in circumstances like we found in Buras that day. Redfish are predominantly bottom-swimmers—not necessarily bottom feeders, but bottom-swimmers. When they're excited by a school of baitfish, say mullet or sardines, they'll certainly kick into more of a surface-feeding attitude, but if things are slow—high, warm water, salinity on the low side—a bait that gets down to their level is often the right choice.
The depth you're fishing will inform your choice of plug based on rated diving depth. It doesn't have to be precise, but if you're fishing mostly 2 to 4 feet of water, you don't want a plug rated to dig deeper than that. This is especially true if you're fishing over grabby bottom like oyster or submerged grass. That said, the occasional deflection of a swimming plug from contact with bottom isn't a bad thing; the action can trigger a strike from gamefish. Some waters, though (heavy seagrass in particular) are better suited for weedless-rigged soft baits or single-hook jigs.
Speaking of single hooks. As we've all moved further away from the impulse to fill a fish box, efforts to promote fish recovery after the catch have caught on. Thus, many plug fishermen favor exchanging treble hooks for single hooks, switching them out using split ring pliers (a must-have tool, far more convenient for the task than regular pliers). If you do that, look for inline single hooks—most bait hooks have the eye at a 90-degree to the bend. An inline single hook is basically flat—seen in profile, the eye is lined up. The inline hook shouldn't upset the plug's balance. The wrong conventional hook, leaving the bend and point off to the side of the plug, will interfere with its performance, unbalancing the lure and taking away the intended minnow-like swimming pattern.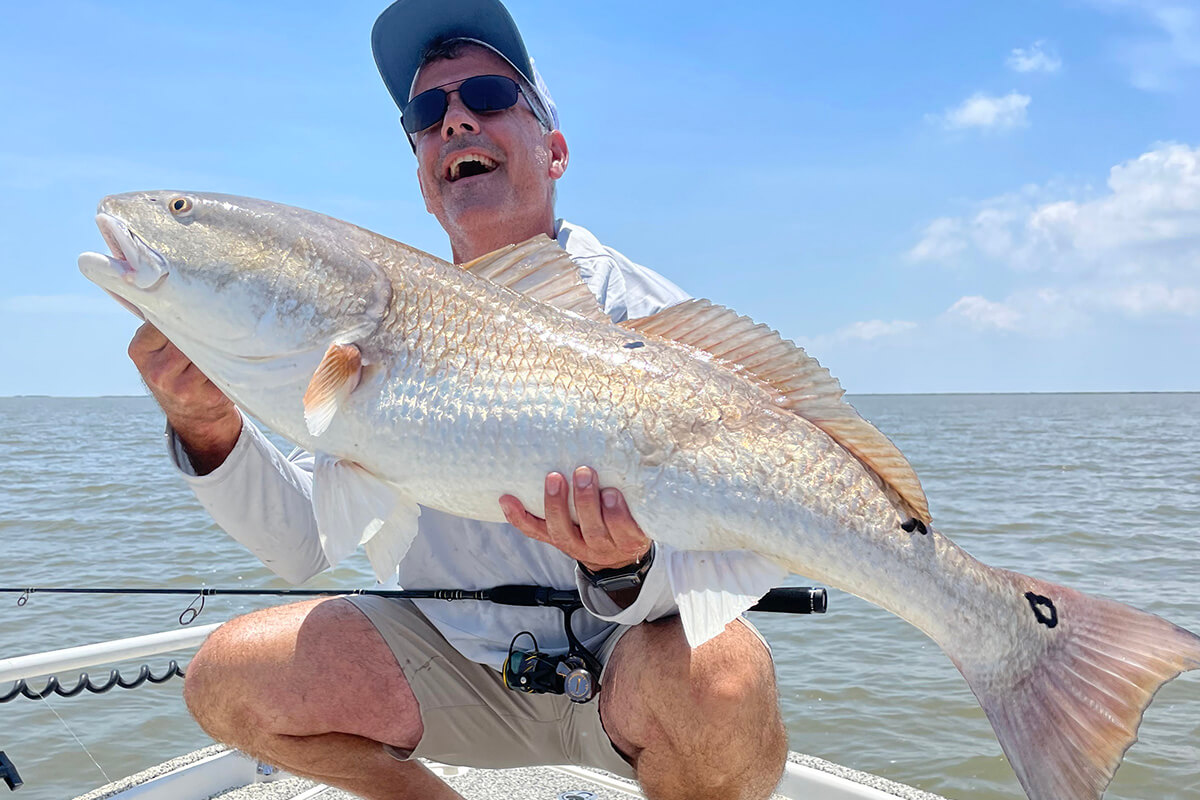 Author with a hefty redfish. Redfish are predominantly bottom-swimmers—not necessarily bottom feeders, but bottom-swimmers.
Personally, I'm not a big fan of single hooks on plugs. I won't argue with folks who like them. But in my experience, singles miss too many strikes. At the same time, I'm not a fan of retrieving deeply embedded trebles, either. My solution is to use pliers to pinch flat the barbs on stock treble hooks. Whether the fish swipes at the plug or engulfs it entirely, I'm likely to make the connection. The residual, smooth nub at the barb is plenty to hold during the fight—and much easier to remove after.
One situation where I do switch out hooks is when I find a plug I like that's either outfitted with one-too-many trebles, or equipped with very light, freshwater-grade hooks. Some elongated lipped minnow plugs (and also a few topwaters) are outfitted with three trebles. That's too many. I'll remove the middle hook—and then invariably I will remove the other two, replacing them with one size larger. The object is to retain the overall balance of the lure for swimming action, and also maintain weight for casting distance.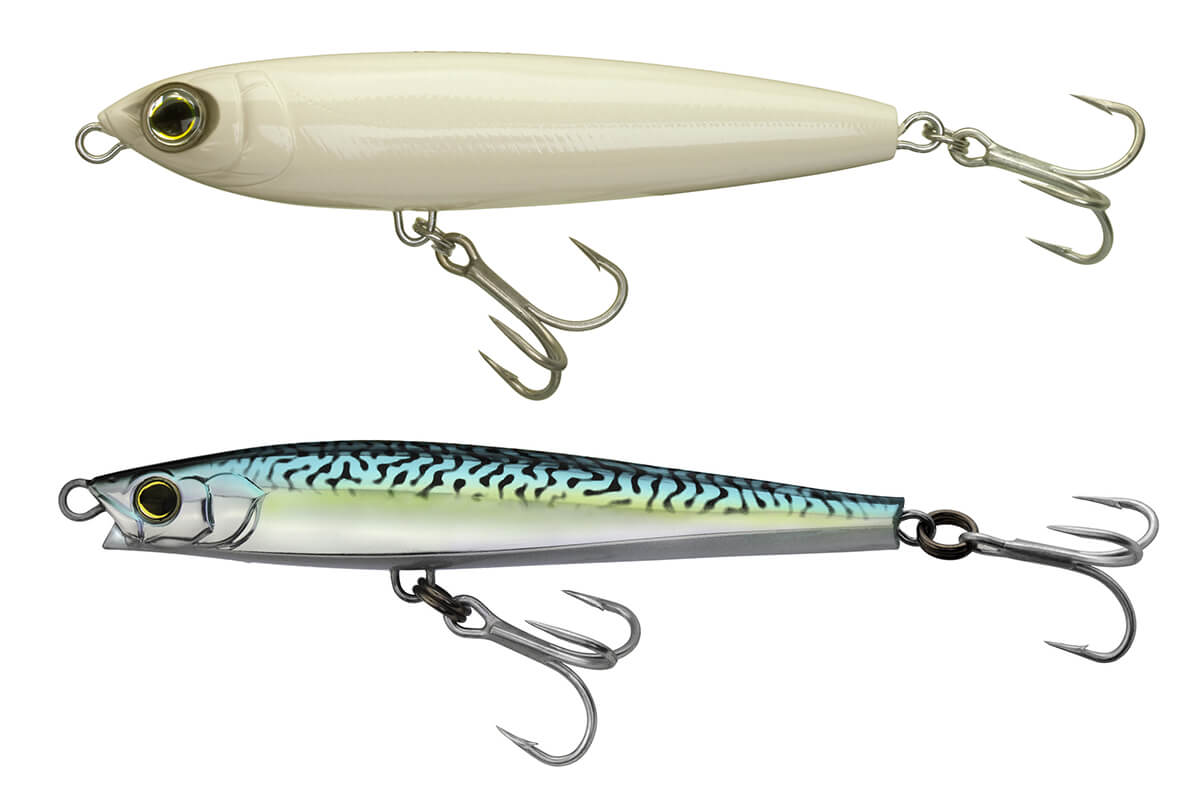 These two from Yo-Zuri may look alike, but couldn't be more different. Above is a high-floating Hydro Pencil. Below is the new Monster Shot, which casts like a bullet—and sinks like lead.
Casting distance, of course, is a strong point of plugs in salt water.
There are some situations where "casts like a rifle" is the foremost characteristic needed for success. A new plug from Yo-Zuri, the Hydro Monster Shot, well illustrates the comparison—the smallest model, 3 1/8 inches, weighs an even 1 ounce. That's more than twice the weight of a comparable slow-sinking twitchbait, such as the MirrOlure 19MR suspending twitchbait. Not to say the one is better than the other (both are available in a range of useful color patterns), but if you need to make a 200-foot cast to breaking stripers or mackerel in heavy winds on an oceanside jetty, the compact-but-heavy configuration may be the call. On the other hand, if you're fishing 3 feet of water over oysters or around mangrove roots, a lighter, slower-sinking selection makes sense.
For years, topwater fishing with plugs was one of my preferred tactics for spotted seatrout and renegade snook in shallow water. These are the premiere inshore gamefish where I live, in southeast Florida. In the late spring and summer, when grass was thick and water clear in the Indian River Lagoon, the swish of a Zara Spook, Top Dog or Yo-Zuri Hydro Pencil was a dependable invitation for aggressive bites.
The "walk the dog" approach, rhythmically sweeping the rodtip while reeling, making sudden accelerations and pauses, produced an attractive swimming action from these otherwise mostly featureless lures—straight, cylindrical bodies. We found counterintuitive patterns, too—in the months of May, June and July, for instance, very large trout, commonly thought to be mostly low-light predators, would smash lures like these in the middle of the day. The bite would be a sudden explosion, followed by a thrashing, sulking presence at the end of the line. If it took off running, or jumped, it was invariably a snook. If it stayed down, fought with short surges, shook its head at the surface—gator trout. Bites from those 4- to 9-pound trout didn't come frequently—in fact, you'd be selecting against the more numerous schoolie fish. But when that monster interrupted your daydream on a heatstroke summer afternoon, it was special. The all-tackle world record, I might add, was caught this way, not far from my home. Craig Carson's fish, in May 1995, weighed 17 pounds, 7 ounces.
Sadly, my favored topwater trout fishery literally disappeared with the seagrass dieoff that plagued east central and southeast Florida between the years 2010 and 2020. (The cause of this die-off, with some geographic distinctions, would require many pages to fully explain; short story, too much micro-algae, too much nutrients).
There have been recent signs of some grass recovery, but it has been a number of years since I've gone to certain spoil islands and special shorelines I once haunted. A new community boat ramp and children's sailing camp now occupy terrain which, 17 years ago, once produced a pair of 5-pound seatrout for me on consecutive casts. I remember that morning well; it was the day before my first daughter was born.
Nowadays, I'd have to travel for my trout fix. But, I haven't given up on topwater fishing. No indeed. In recent years, I've been taking basically the same gear and tactics outside the inlet and into the near-coastal waters for an interesting mix of catches.
Tsunami Talkin' Popper with concave face that makes a ruckus when pulled through water.
Now, dedicated ocean fishermen tend to stick to one or two methods that evolved out of commercial or charter fishing. Trolling, for instance, makes very good sense as it takes a lot of variables out of the equation: There's a bait, a fish, and a rod stuck to the boat. Fish takes bait, crew member reels fish to boat. Limited opportunities for tangles, crossed lines, etc.
Livebait fishing is another tactic that's efficient: The presentation is self-activating. There's no need to convince a predator there's a meal within range.
The proliferation of these tactics should by no means discourage an angler who prefers a more active, hands-on approach.
A slightly beefed-up version of what you'd cast inshore for trout, reds and snook, or in a lake for largemouth mass, works wonderfully for plug fishing on the ocean.
Michael Cassidy used Tsunami Talkin' Popper to catch a solid bonito off Southeast Florida (false albacore, to some).
Inshore, I favor a 2500-series reel with 10-pound-test braided line for the flats, or a low-profile, 200-series baitcast reel with 15- or 20-pound braid. On the outside, where fish are larger and retrieve speed and line capacity are priorities, I stick with spinning gear with a 4000 or 4500-class reel and 20-pound braid. The larger lures (3/4-ounce and up) will carry 20-pound braid plenty far enough, and the line gives a bit of cushion in the event something serious answers our invitation–which happens.
Big jacks, kingfish, false albacore (which we call "bonito," in Florida), errant mahi-mahi: I've caught all sorts of stuff on topwaters in the ocean, simply casting from a dead boat into likely-looking water. Same drill as on the bay or bass lake.
One day this past summer, in early August, I was casting a 5 ½-inch Tsunami Talkin' Popper and wearing out the false albies on it. This was about 2 miles off the beach, in 45 feet of water. You can call it ocean, but it's the flats, as far as local bluewater captains are concerned. The albies were zeroed in on schools of ballyhoo, larger baits than they normally go after. None of that micro-jig or teeny fly pattern stuff. When one of the albies stuck a bill out of the water after grabbing my plug, I blinked really hard a few times. A sailfish!
Whether it's pulling in big reds in the Mississippi Delta, giant seatrout on the lagoon, or prospecting for ocean-grade fun, plugs make things happen.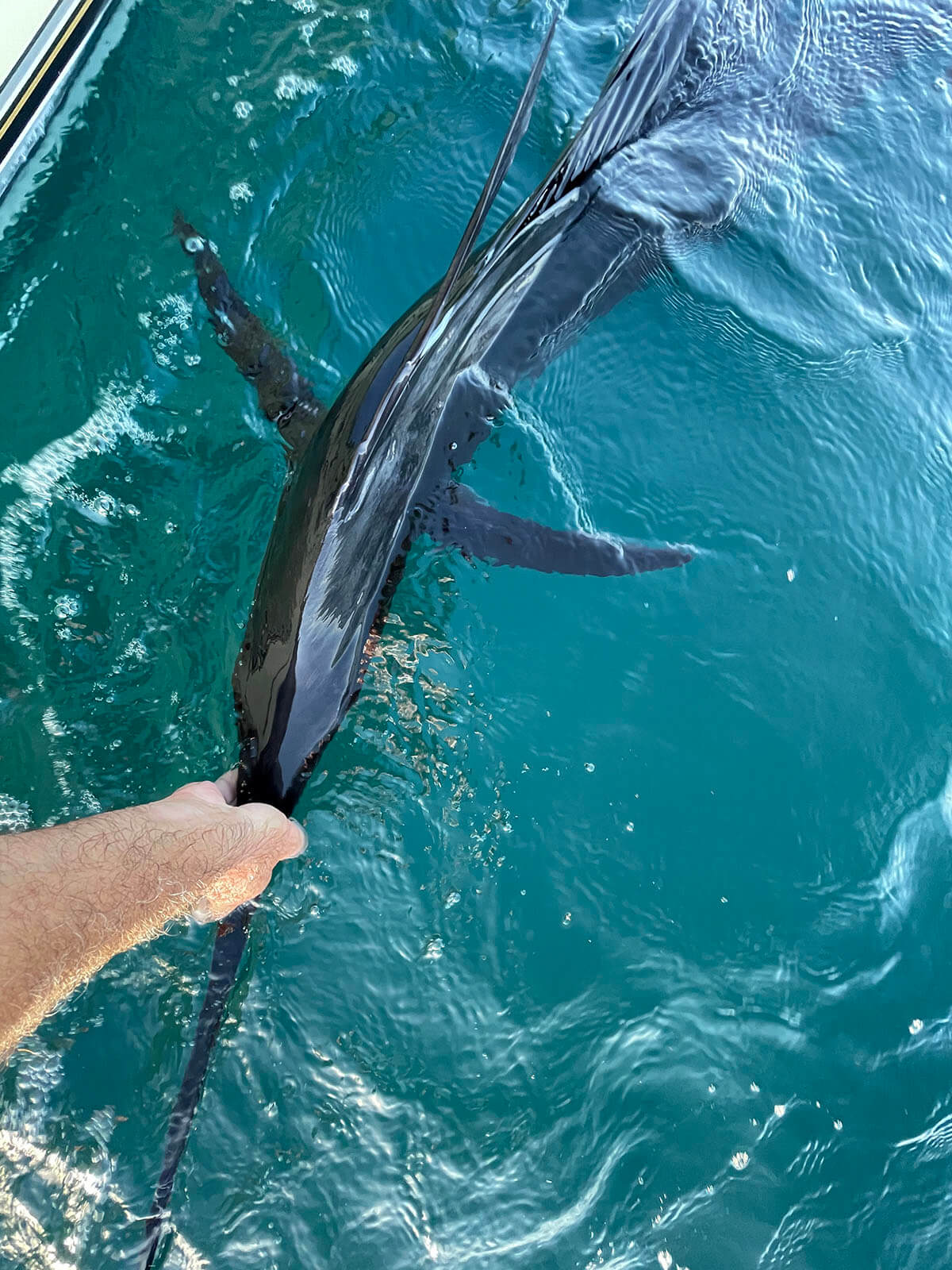 Plugs are not limited in their uses. Inshore, offshore and freshwater: there's a perfect plug for each.
Two miles off Stuart, Florida, this sailfish smacked the same popping plug shown on the facing page. The lucky angler holding the rod (and the bill) is the same one holding the camera: Me.
It's a lot of fun fishing hard baits in nearshore Atlantic and Gulf of Mexico waters, where mackerels, jacks, barracudas and other surprises swim well within range of bayboats. With today's low-volume braided lines and reels with exceptionally smooth drags (Penn Slammer IV DX4500 shown), tackle needn't be heavy. You'd spend an hour casting for a big trout or snook inshore. Why not out here?