Docks are where fishing days begin and end—we leave the dock in our boat, and return. Of course, in populated stretches of the Florida coastline, a good part of the fishing day might be spent casting around docks. Fish like structure, and docks offer vertical cover as well as overhead shade.
For the new angler, "dock fishing" can be intimidating. You look at a shoreline which might have over 100 docks to choose from. How do you know which one to fish? Which dock is holding the snook, the redfish, the sheepshead, those fish you came out on a mission to catch? Discovering a productive new dock can be one of the most fulfilling feelings on the water because now you have a new spot for memories to be made for years to come.
Sturdy spinning gear is useful for presenting baits and lures—and for putting the brakes on a big fish.
Born and raised on Sanibel Island, in Southwest Florida, I grew up fishing where there were plenty of docks to choose from. Upon moving to the east coast to take up residence in Port St. Lucie, I realized there were just as many. How would I find the ones that work? How would I locate the honey holes, the ones that will produce trophy fish? Through trial and error and applying some of the principles I learned early in my fishing years, I put together a pattern which has yielded me success.
Where to Start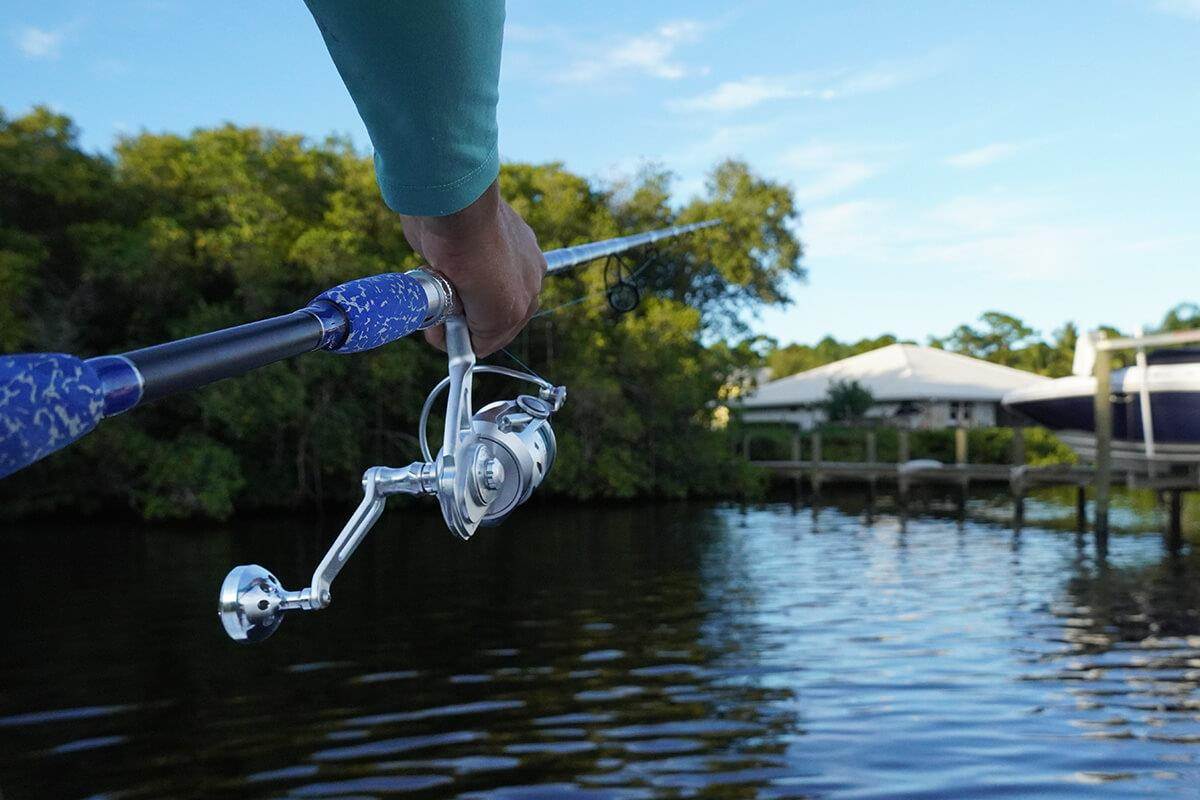 Keep a finger on the line to "take the pulse" of a live bait. You'll be ready when that trophy fish moves on for the attack.
A good place to start when fishing new docks is honing in on some target species. The typical inshore species you may go in search of in Florida are snook, redfish, trout, snapper and sheepshead, among a few others. You'll find that many of the docks that attract one species also attract several others. That is because many of these inshore predators are looking for some of the same habitat characteristics.
Many popular Florida inshore species will search for several of the same components to ambush their prey. They typically want coverage, flowing water, structure and bait. Docks might provide access to all of the above. For example, let's take snook. The common snook is one of the most prized inshore fish in Florida. Snook are very dependent on certain water temperatures. Because of this, their behavior may be predictable given certain weather patterns. They prefer to be in water temperatures between 70 and 82 degrees. When searching for the perfect dock, understanding water temperature can also help you figure out where snook may hide.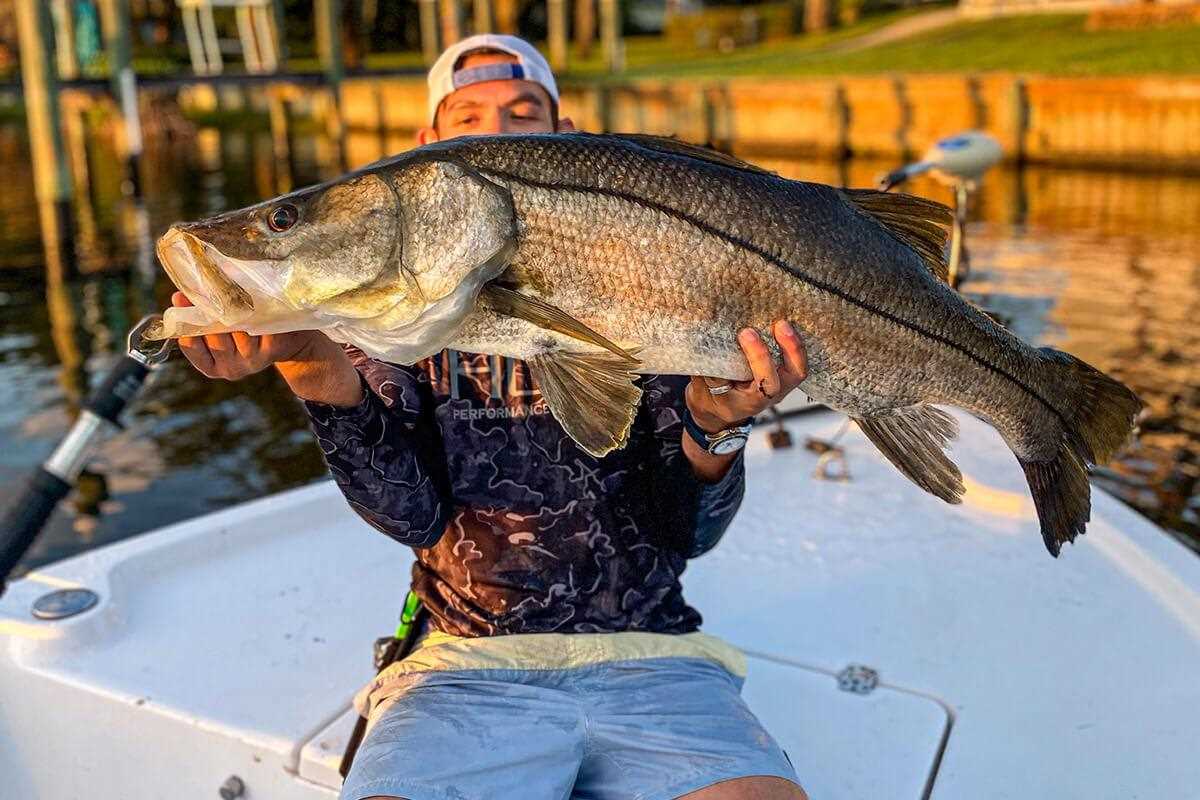 For some of the bigger species such as snook and redfish, live bait will typically get the job done either freelined or with a sinker.
On hotter summer days, snook will almost certainly be in an area that has ample shade. Look for yachts, boat houses or any dock that was built wider than others. This provides a larger shaded area, thus providing a larger habitat for fish looking for cooler water. Heavy current can also help stabilize the water temperature and add another key element dock monsters love: bait. As tides pick up and move, smaller baitfish, unable to fight the current, are swept out. As this occurs, ambush predators will wait behind the structure to capitalize on the helpless prey.
What to Look For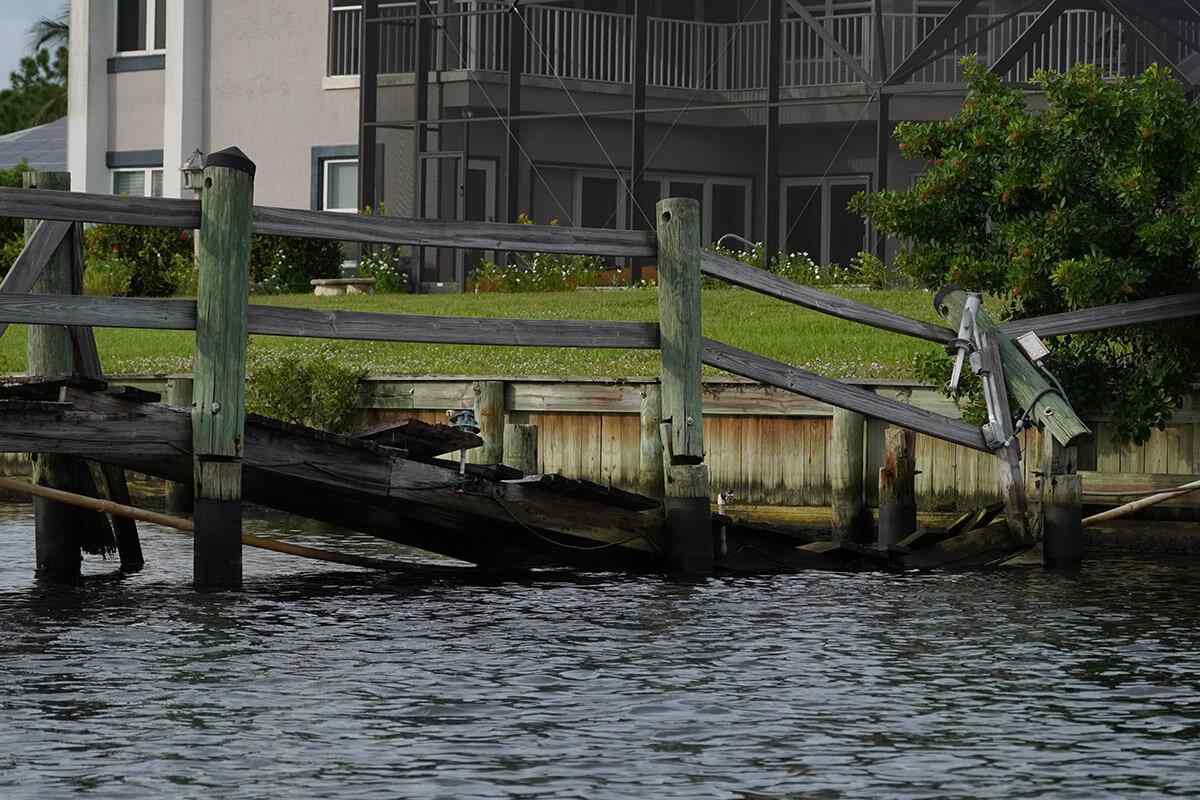 If you're fishing a dock with coverage, current, additional structure such as seawalls, mangroves or rocks, you're probably in store for some tight lines!
So when searching on new waters, I look for a few things: moving water, coverage (a larger than normal shaded area), structure and dropoffs. A bonus if you have a depth finder is to look for dropoffs and hidden structures. Dropoffs can hold larger predatory fish. Areas of deep water are also especially attractive in the winter, when fish may lie low to escape chilled surface water.
Moving Water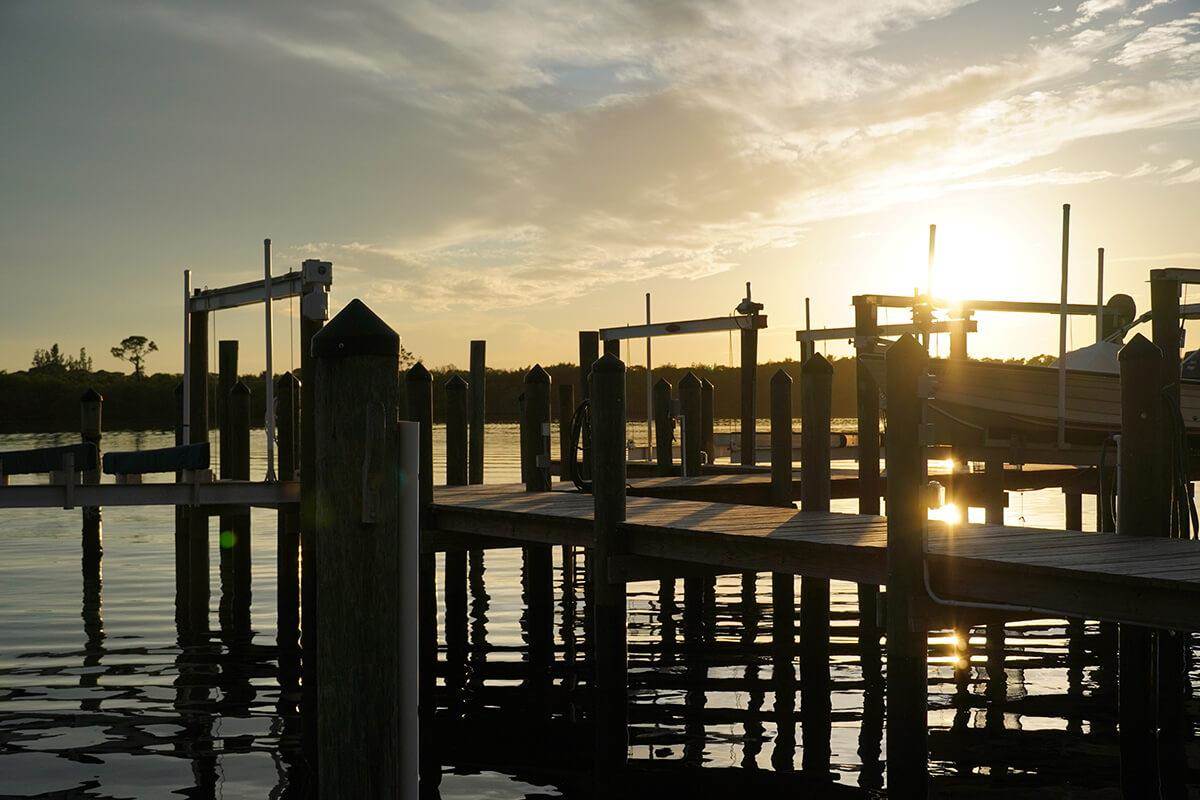 A uniform warren of pilings and decking like this may present few obvious targets. But when the current gets moving, you may spot new evidence, such as baitfish schools or fish striking.
Moving water may be the single most important variable when trying to find a productive dock. The current does not need to be ripping, but a visible current is a good sign. This can help predictability and location of bait. It would be too difficult to solely search for bait with the nature of Florida backwater, typically the water clarity is less than ideal. So rather than strain your eyes searching for bait on hundreds of docks, simplify the process by searching for current (and get yourself a pair of Costas). If there is a current, it is likely that bait will be present in the area.
If you've ever observed snook or redfish in good water clarity around current, then you know how they hunt. Many times in Blind Pass on Sanibel Island or the St. Lucie Inlet in Stuart, I've watched snook hugging the bottom as they face the current head on, hoping an easy meal is pushed out with the current. Docks give predatory fish an even bigger advantage. When there is that incredible combination of moving water and structure, the gamefish we love to catch will use that structure to hide themselves as they face the current in their search for bait. Strong tides are the UberEats of the ocean, and the docks are the predators' home.
Coverage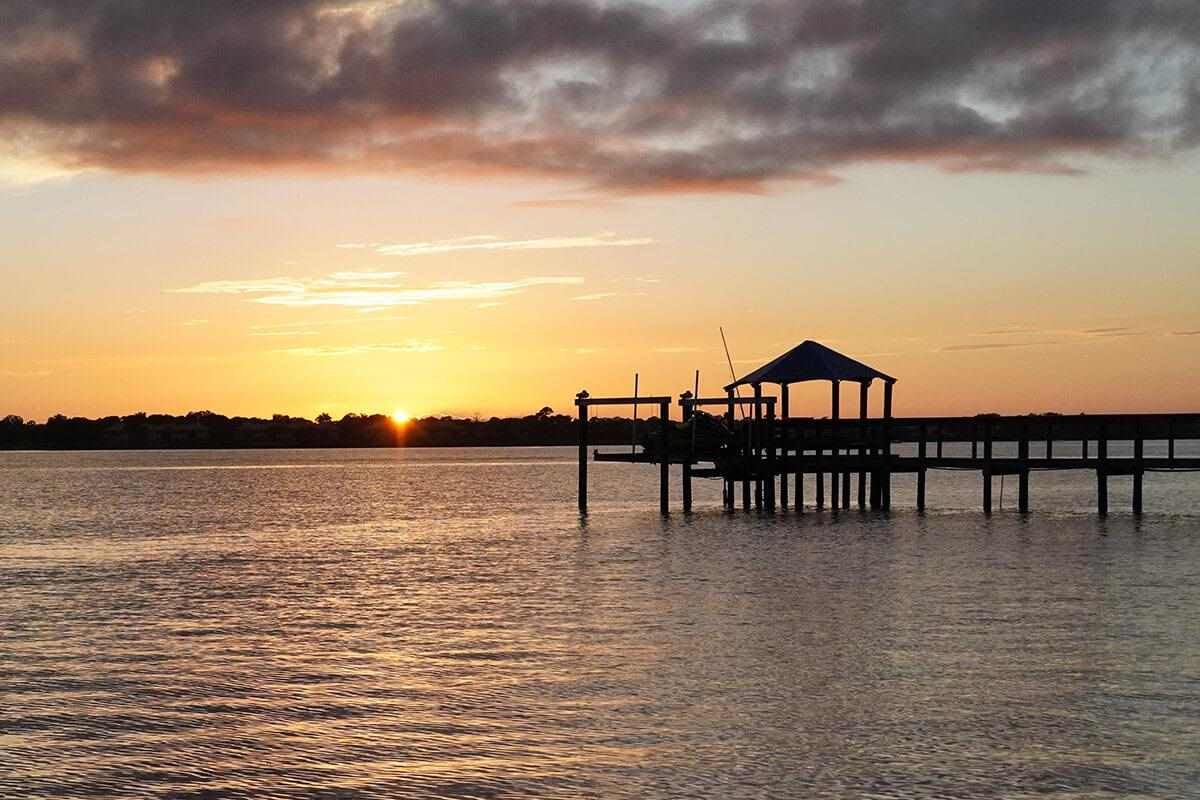 After sundown, lights are likely to attract shrimp and small fish—and predators.
Now, coverage is also an extremely important factor. Some docks have much more coverage than others. Whether it is because there is a boat house, a yacht, or some other element that creates a larger shaded area, the ones with more shade will typically yield more fish. This is because of water temperatures and shadow lines. The fish can adjust their position throughout the day and stay in a comfortable state as water temperatures fluctuate. You may find water temperatures to be a few degrees higher in areas that are more exposed to sunlight and a few degrees cooler in covered areas. As mentioned, coverage also provides shadow lines. Shadow lines are some of the best places to catch great inshore fish like snook, trout and reds.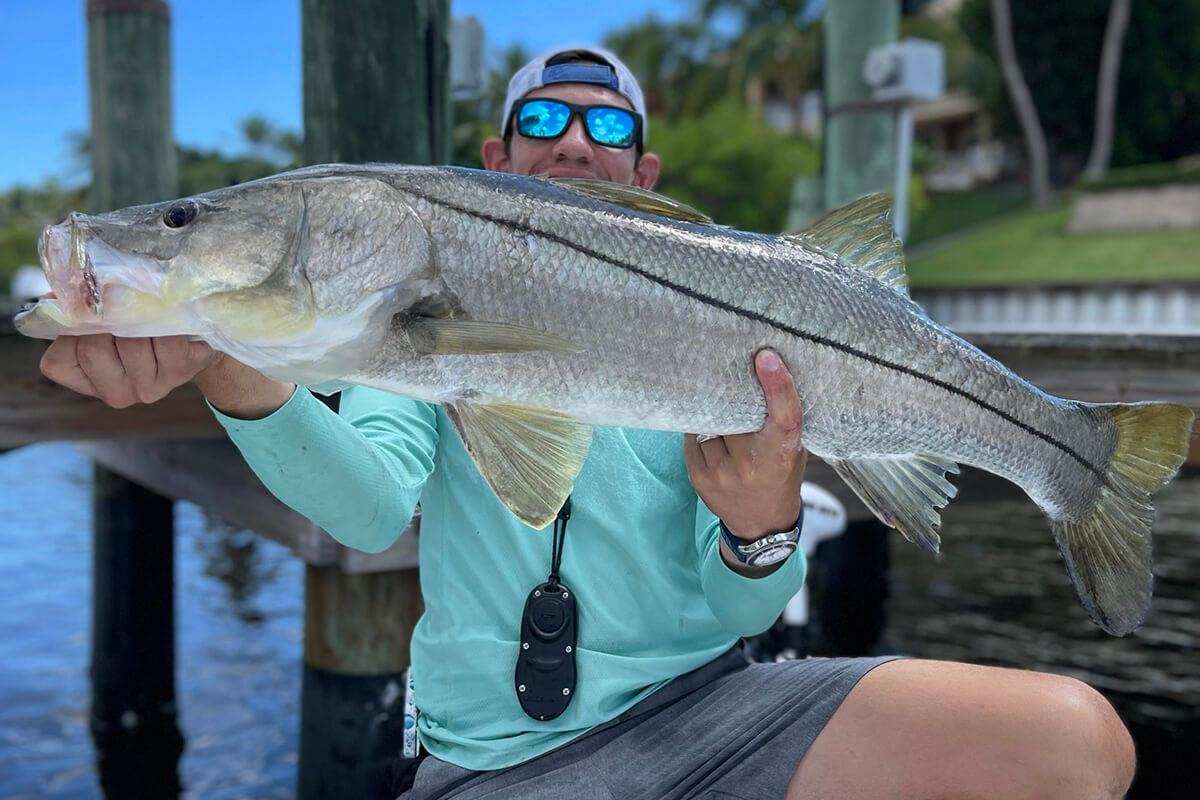 When searching for the perfect dock, understanding water temperature can also help you figure out where snook may hide.
Inshore gamefish use the shadow lines to their advantage. They will often hide behind a piling covered with a shadow to reduce the chance of being exposed to the bait. This helps them quickly and easily capture their prey. Shadow lines from coverage can also be a great place to start at dusk, dawn and nighttime. If night fishing is in your plans, shadow lines may be your best friend. When you find the combination of coverage, moving water and shadow lines, now we're talking. Now our odds are increasing. We are inching closer and closer to discovering that perfect dock.
Structure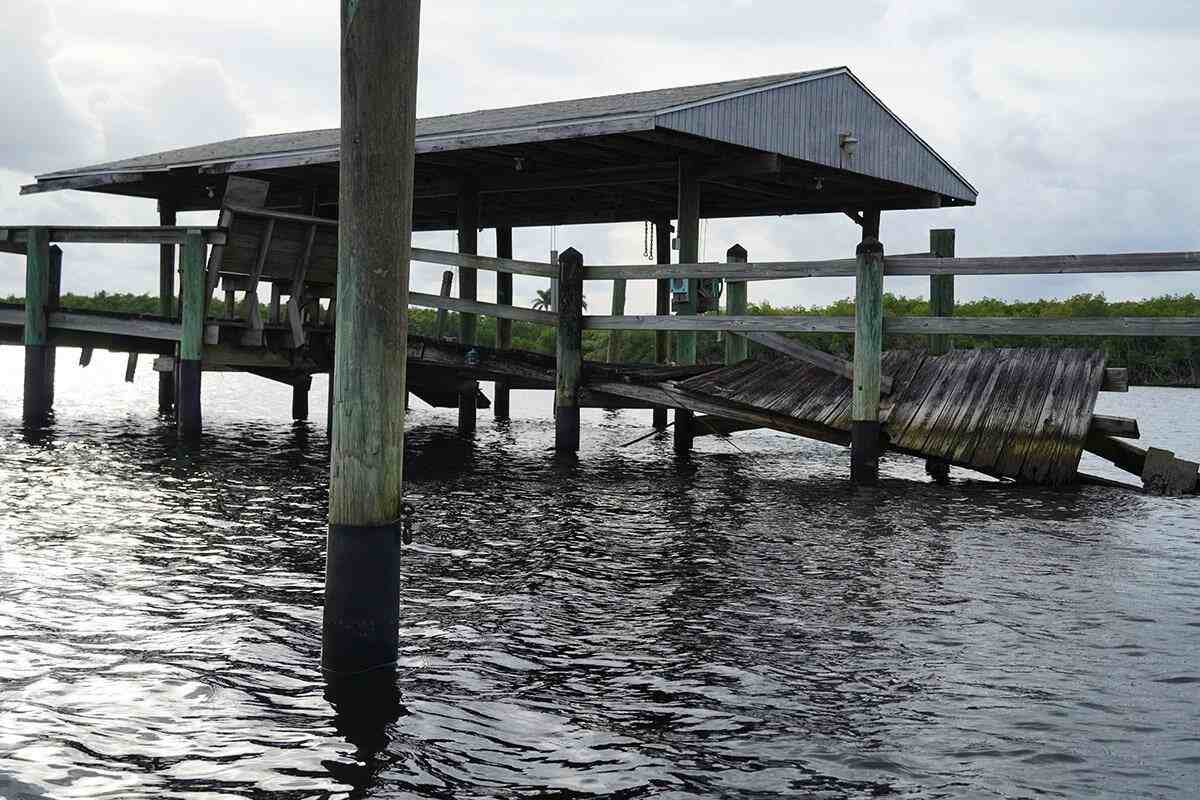 As smaller baitfish are swept out, ambush predators wait behind the structure to capitalize on the helpless prey.
Don't all docks count as structure? Well, yes, but they're not all the same. Some docks are built in areas that may be hiding additional structure underwater. It can be rocks, fallen or submerged trees, mangroves, or a combination of all of them. It's important to understand that we are using the term "structure" broadly here. When looking for additional structures near a dock, I look for mangroves, rocks, concrete, seawalls and more. I particularly prefer docks that are built with concrete as opposed to wood. The concrete pilings will create better surfaces for ambush predators to hide, and more barnacles which smaller fish like sheepshead and snapper love. These concrete pilings are littered with crabs and other food.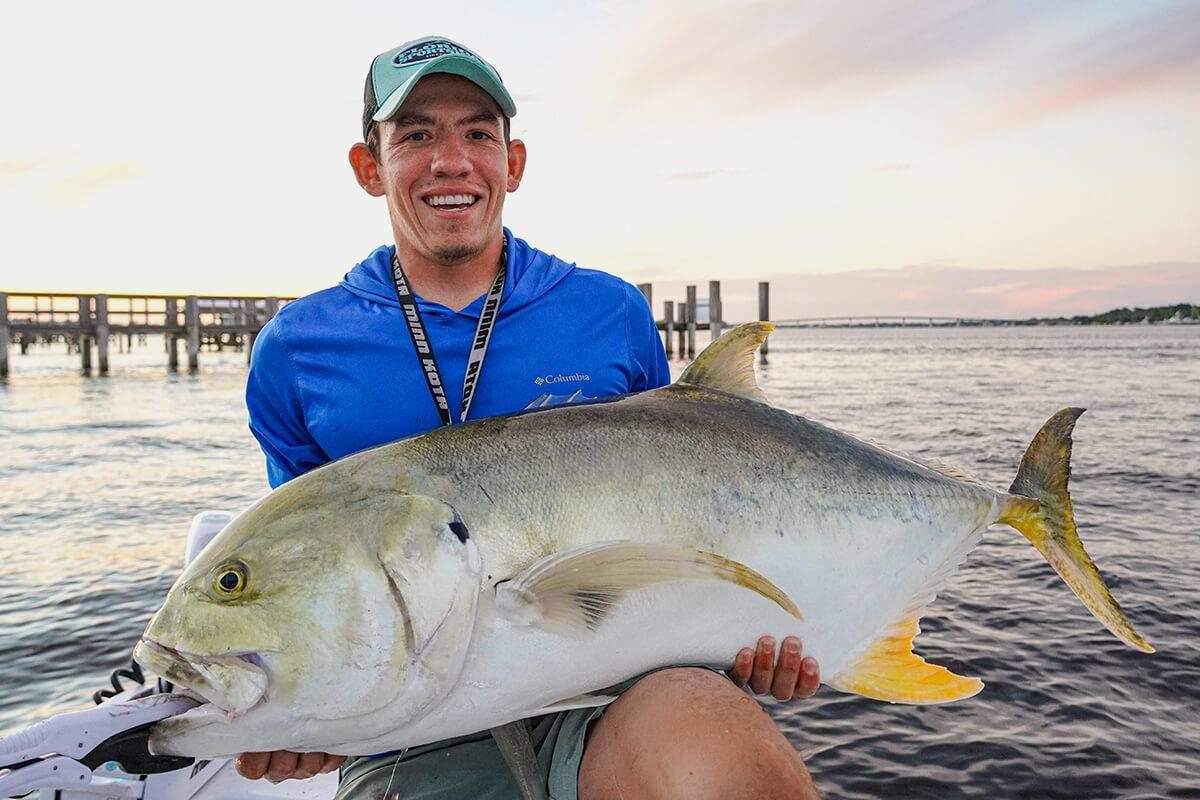 If monster jacks like this one are on the prowl, it won't be hard to tell where the action is!
Another excellent addition to a dock that I would classify as additional structure is seawalls. Seawalls are some of the best places to fish when located near docks. Fish like snook, trout, redfish and jacks will use these seawalls to trap prey such as mullet, bunker and pilchards to make eating them that much easier. In and around the St. Lucie River system, on Florida's lower east coast, a mullet on a seawall will not last long. I've seen the same results on the Gulf Coast. Seawalls produce. Seeing predators ambush bait on a seawall can be quite the spectacle.
The Dropoff?! Not the Dropoff!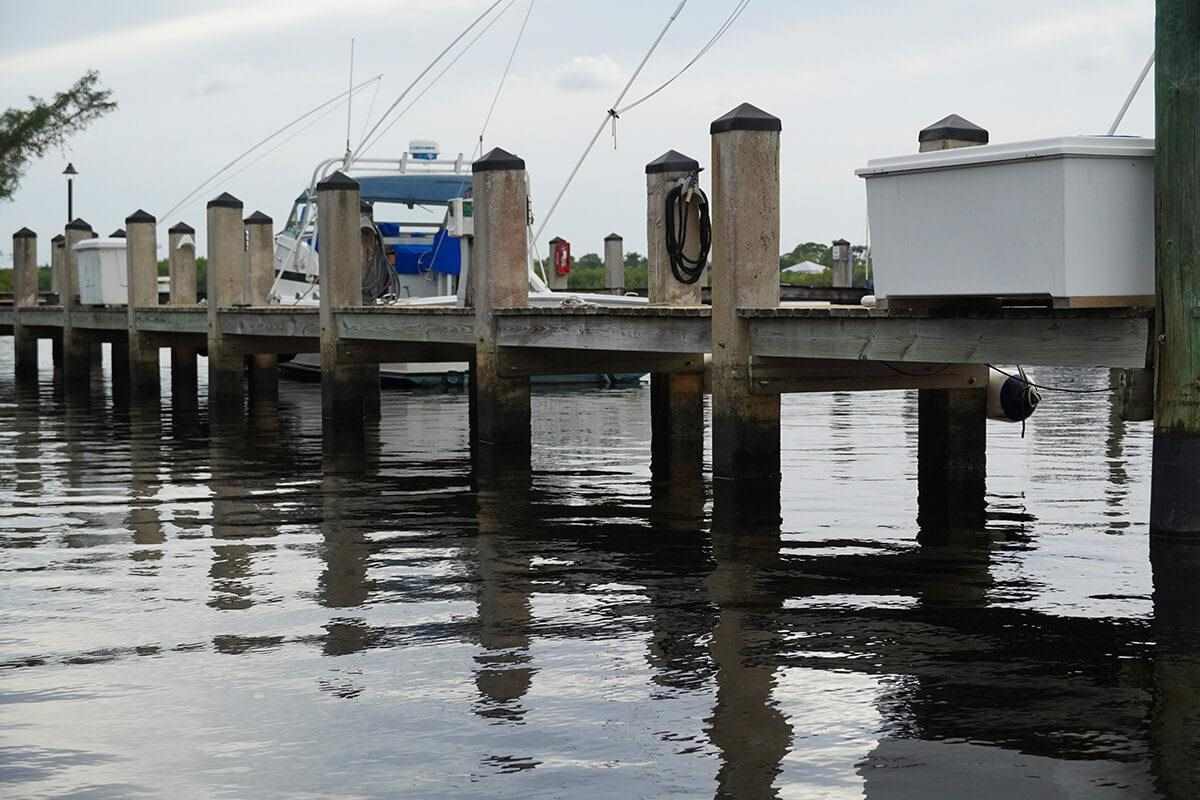 If you have a depth finder, look for dropoffs and hidden structures.
Last but not least, we have dropoffs. First, let's clarify exactly what a dropoff is. When I use the term "dropoff," I am referring to a dock that is situated in a spot that has a drastic change in depth. Fortunately, most docks are built like this. Especially when boats are kept there. Dropoffs can play several roles in proving a good habitat for inshore predators. The dropoffs are structure, too—they allow larger fish to hide in the trough as they stage patiently waiting for prey.
Another reason I consider dropoffs one of the most vital characteristics to finding a good dock is because they also provide a change in water temperature. If you've ever fished a steep dropoff you've surely seen the difference in water temperature at, let's say, 8 feet versus 2 feet. Sometimes the shallow water is warmer, sometimes it is cooler. Depending on the time of year, either the shallow or deeper area will be better. The dropoffs may indicate that the dock you're fishing has some "resident" fish. This is because it allows them to move from one depth to another depending on conditions.
Rigging & Baits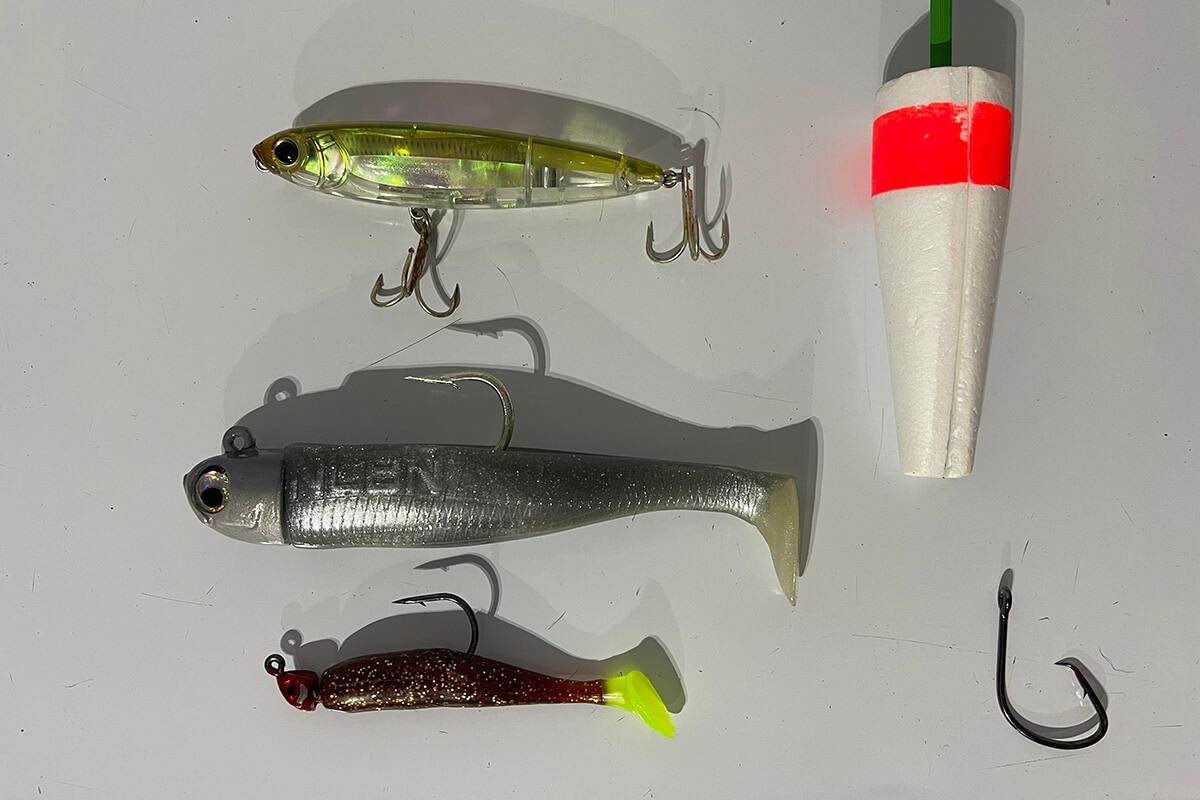 What kind of lures and rigs can you use when casting to saltwater docks? Top to bottom: topwater walking bait, fast-diving swimbait and a versatile shad tail jig, all with dock-fishing applications. Popping cork rig to the right, add a whole live shrimp, cut shrimp or soft plastic.
Now that we know where to look, what about what to use? Once again this is going to depend on the target species, but to give you some simple and foolproof suggestions, we can go over a few proven methods. A popping cork with a 1- to 3-foot monofilament or fluorocarbon leader paired with either a whole live shrimp or small piece of shrimp attached to a hook is a great way to target mangrove snapper, sheepshead, trout and other tasty fish that frequent docks. If you're an artificial guy, soft plastic or other synthetic shrimp pair excellently with a popping cork, or you can freeline them with a couple twitches and an extremely slow retrieve.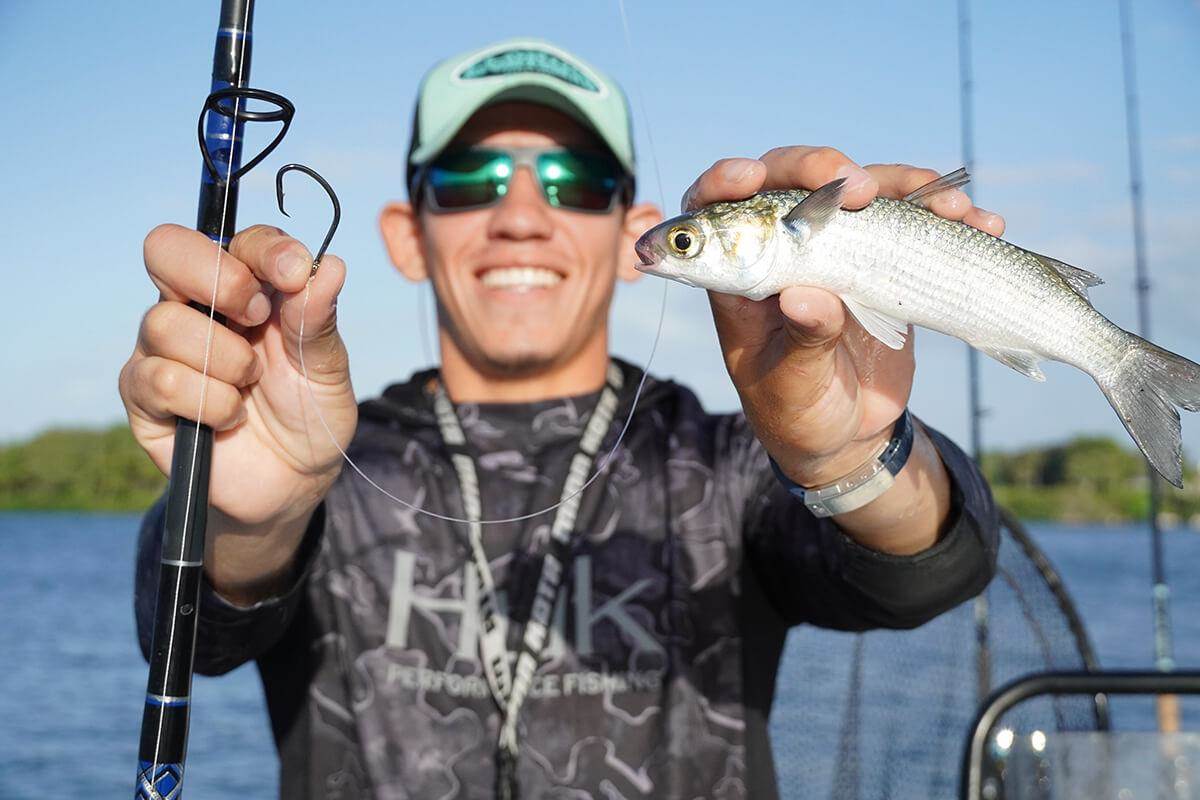 Trophy-snook-class live mullet and a circle hook which will be pinned through the upper jaw (or sometimes below second dorsal fin).
For some of the bigger species such as snook and redfish, live bait will typically get the job done either freelined or with a sinker, depends on the tides, depths and water temp. My personal favorite dock-fishing bait is a finger mullet—typically a juvenile silver mullet. They can be found on both the east and west coasts of Florida. Some other great choices depending on your location are Atlantic croakers, pinfish, pilchards, menhaden or small greenies. Once again, if artificial is more your cup of tea, a soft plastic swimbait on a jig head will produce under the right conditions, and topwater walking baits have been responsible for some of my best and most memorable catches under and around docks.
In conclusion, if you're lucky enough to find the "perfect" dock with all of these features—moving water, coverage, structure and dropoffs—you've surely increased your chance at some great inshore fishing. If you're fishing a dock with coverage, current, additional structure such as seawalls, mangroves or rocks, you're probably in store for some tight lines! It's important to mention that you can't expect to find a dock that contains all of these attributes, so sometimes, you may just look for one or two of these components and that can be enough to get on some fish!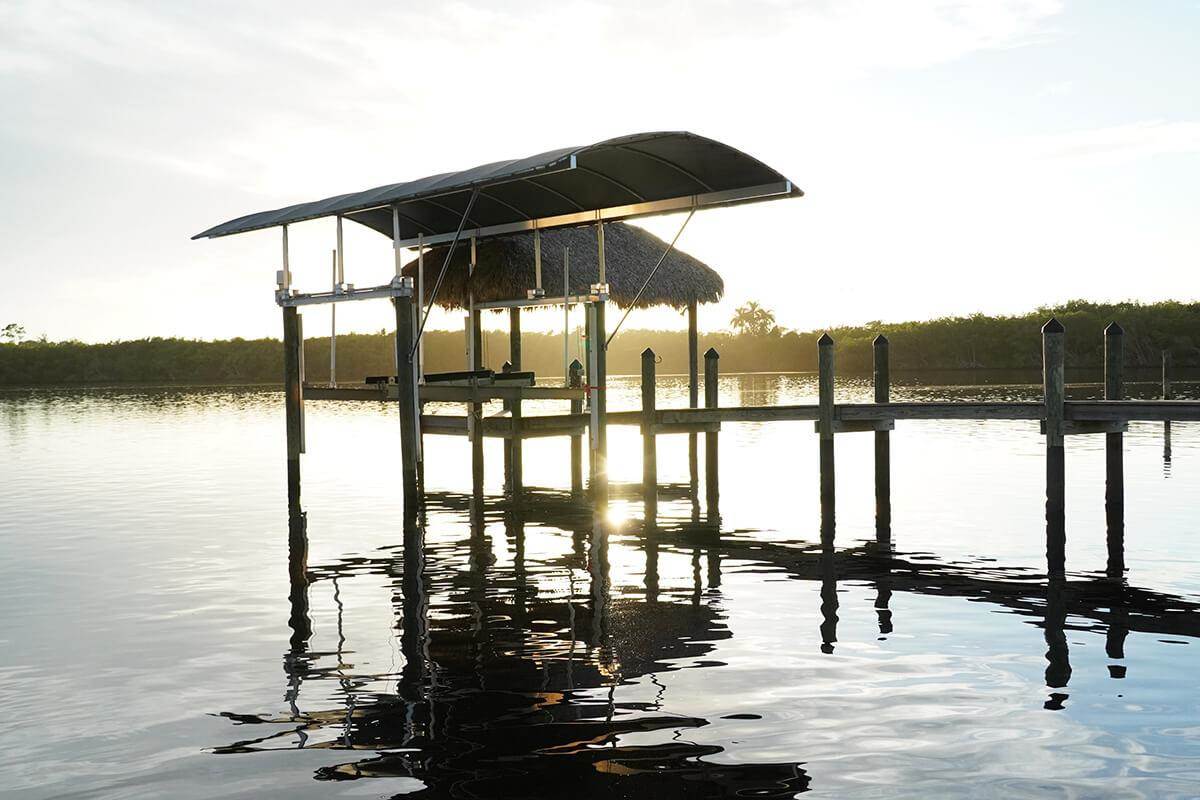 Remember that when you're fishing around docks, you're enjoying the benefits of a nearby property-owner's investment.
And a last but important point: Remember that when you're fishing around docks, you're enjoying the benefits of a nearby property-owner's investment. Casting from the water toward a person's dock is not illegal in Florida—in fact the law is very much on the side of the fisherman, with a few exceptions in private canals and developments (ask around). However, regardless of where the law points, do your part by avoiding contact with the dock and avoiding leaving line or rigs there. Be prepared to engage in respectful communication with property owners. And it should go without saying, but if a person is already there fishing a dock—especially someone on the dock—you should never disturb their space. In a boat or kayak, or even wading, you can always move to another spot. De-escalate conflicts; we're enjoying ourselves fishing—the world has enough to stress about. In general, I do my best to stay quiet around docks, lower my radio, and be mindful of my surroundings.