Coastal/sea fishing
The inshore reefs have been fishing great for the past week! School mackerel and grunter have been the most prominent. By far the most effective technique for catching schoolies has been quickly retrieving 50g flash spoons vertically off the bottom. If you're more into bait fishing, sardines are a killer bait for them, slowly float a whole sardine either on the bottom or the back of your boat.
For the grunter, jigging soft vibrations on 20gi 5 inch soft plastic has been the technique to get the bite! Again, if you're more into bait fishing, using shrimp and squid is a surefire way to catch a few grunts while they're on the chew.
Trent Wockner with a 54cm red that was released safely.
We finally got that window of good weather last week and the reef fishing was red hot! The standout fish were red emperor, coral trout and cobia! Trout were biting mostly on whole sardines, reds were loving big meat baits or live baits, and cobia were crushing cuttlefish as well as 7-inch tail soft plastics.
Those managing some quality reds were fishing reefs out to the islands and finding small bits of bottom that would hold bait. Cobia have been caught around wrecks and trout have been caught in shallower water with plenty of structure to hold these fish. Remember to always make the most of this tide change. The hour on either side of the tide can be a proper game changer!
Burnett River
The Burnett has had a great week of fishing with most of our common species caught along the river. The target species for most anglers has definitely been the mangrove and monster kingfish we have had in this river.
Cats have been caught along the rock bars like Kirby's Wall on live baits or big meat baits like a simple mullet fillet. Casting your lures as close to structure as possible has been a treat. The big kingfish have been caught predominately on small soft plastics hit in areas of high current and where there is a lot of bait. Some areas to try would be bridge pylons and pressure edges along rock walls.
Shelly Cvorak with a GT ripper stuck in the Burnett River.
Some large sized flatheads and grunts are being caught with most of the success coming from those fishing towards the mouth of the river. Using small meat baits or whole sprat has been the bait for these fish and anchoring in a good drop off is where these fish are feeding.
There are still a good number of prawns but they are moving quite quickly, it pays to have a good quality probe to locate these prawns before you go to cast the net. Trying areas downriver near the harbor will be a good place to start, but be prepared to do some driving to find the best numbers of these shrimp.
The Elliott River
Once again the Elliott River has had a great week of fishing, especially on our bread and butter species. Wading the shallows around the mouth of this system has seen whiting, flatheads and bream being caught on fresh shabbies, beach worms or small soft and hard plastic lures.
The last of the tide and the start of the final tide has been when most of these fish are being caught. If you are fishing when the tide is lower, try to fish the deeper sections on the flats or drop-offs, as this is where the fish have been pushed on the last tide. Around the mouth some large kingfish and trevally have also been seen on the move harassing baitfish.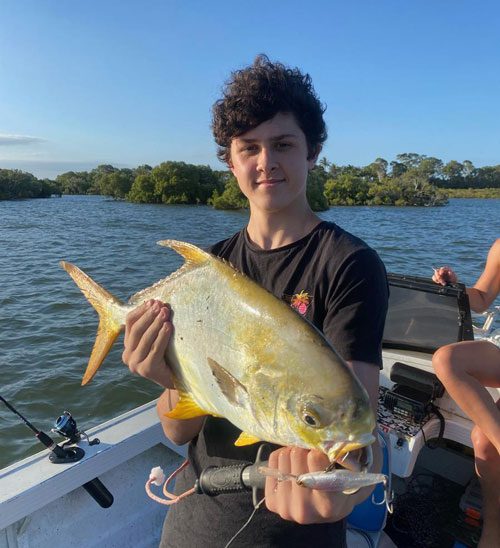 Jackson Sharpe with a cracking permit caught in the Elliott River.
Around the top of the tide has been the time to chase these fish, similar to the Burnett we have seen more success from anglers using natural colored soft plastics around 100mm long. Upriver in the deeper areas, some big flathead have been caught as well as some quality size grunter. Throwing a small live bait or small meat bait gets the bites in these deeper sections of the river.
Baffle Creek
Baffle Creek has been fishing red hot this week, with many anglers catching quality fish on a variety of techniques. Large flatheads and grunts have been caught around the mouth of the river system on fresh baits working very well. Freshly pumped yabbies have been killing it on the incoming tide and small meat baits like mullet fillet have been biting on the run out when the water has been dirtier.
There have been plenty of big pelagic fish and they have been feeding, the latter half of the incoming tide seems to be when most of these fish are being caught. Fishing the fallen trees at the mouth of the river has caught some trevally and kingfish lately with whole swordfish and small soft plastics doing the trick.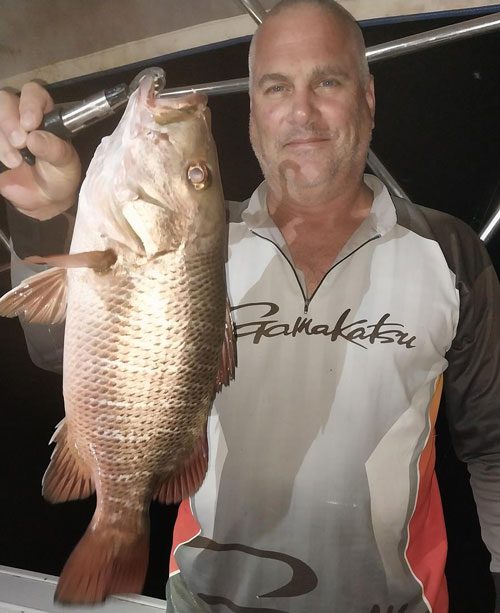 Andrew Austin with a 54cm mangrove dam he caught in Baffle Creek.
Upriver in some of the creeks and rock bars the mangrove dam has still been seen chewing. Live baits are the way to go when chasing these fish and using a quality leader is a must. Middle Channel has been a great spot for a few jack lately, so it's definitely worth a look if you're heading to Baffle this weekend!
Kolan River
Like our other rivers, the Kolan has had another solid week of fishing, but crab and shrimp have also been very good. We have seen large numbers of small shrimp caught in the shallower water over the mudflats. If you have a hard time finding them in shallow water, some of the deeper holes have good numbers, a 10-12 foot top pocket net is recommended when shrimping.
Crabs have been all over the creeks, but venturing into the back of those creeks has been getting the best results. Flathead and grunt have been on the chew with drop-offs on the edges of sand flats or steep banks, being a few great places to start.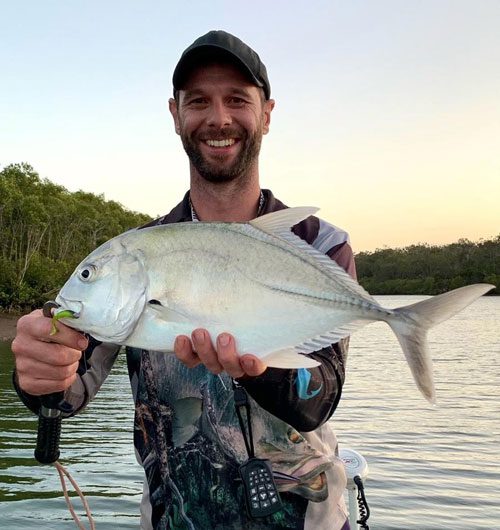 Shaun Burrage with a trevally caught in the Kolan River.
Using chunks of mullet or sprat has worked very well on these fish, towards the mouth in clearer water we have seen fresh yabbies do best when fished in shallower water. We've seen loads of big schools of bait being ripped apart by kingfish and crappie on the incoming tide.
Slipping small soft plastics around the edges of these bait schools or pulling out a whole sprat has worked very well. The rock bars and deep holes in this river have produced a great catch of mangrove, especially for those using live bait. Whole mullet and swordfish have been very effective, but a mullet fillet is definitely worth it.
Fishing Local Beaches
With last weekend and early this week hosting a few days of warm weather, we saw a lot of people fishing on our beaches. Finding a nice deep channel close to shore seemed to be the best no matter what beach folk were fishing. Fresh yabbies caught just about everything and some quality whiting are still being caught with Woodgate Beach being the highlight.
Fresh strips of mullet fillet were absolutely dynamite on the big flathead, crappie and grunt we've also seen on our beaches. Fishing around the mouth of the river on the beaches has also been a treat especially for our pelagic fish. Many large kingfish and trevally have been caught on the incoming tide as they enter the cleaner water rivers in search of bait.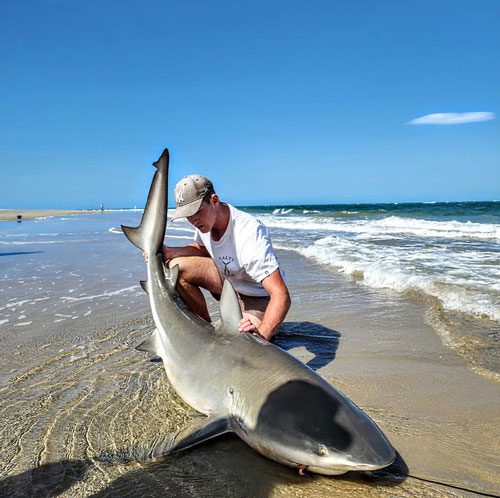 Leroy Bartlett with a solid bull shark caught at Kinkuna Beach.
A well presented live bait is definitely the best when chasing these pelagic fish. We have seen quite a few people fishing for sharks off our coast lately and Kinkuna Beach is by far the place to go to chase these species. The way to go is to rig some whole mullet, eel or stingray on one of our pre-rigged Shelclay shark rigs.
Most people have been rowing the lures a few hundred yards and are having great success with lots of small bull sharks, bronze whalers and tiger sharks.
Lake Monduran
Lake Monduran is starting to fish better and better each week with more anglers slowly discovering the rod to get a few on board. Since the fish are all over the dam, finding them is the easy part at the moment, on the other hand, getting one to bite has been tricky, especially when the conditions are not in our favor.
Lots of smaller fish have been caught with these rats over the past few weeks hanging well on the banks in any shady spots. Hard-bodied crankbaits moved between structure near the bank have caught many of these smaller fish. Many of the bigger fish have been found passing through points and wind bays but have still been very hard to tempt a bite from this week.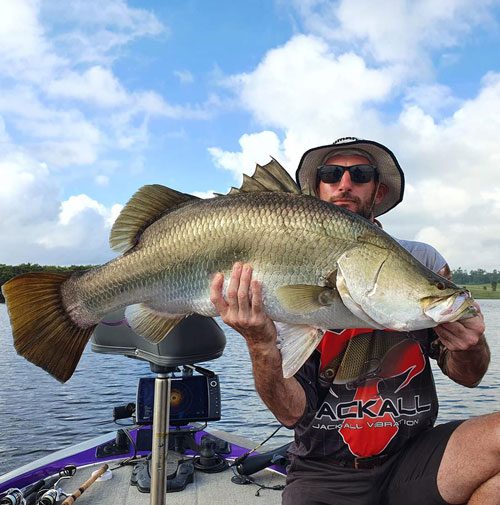 Logan managed this 99cm rod while fishing with Sam from Mondy Man Fishing Charters.
Those who managed to hook some big fish have struggled to keep their hooks on them as these larger rods do not fully commit to the lures. Making sure your hooks are extremely sharp and rust free will help you increase your speed, but the most important thing is to be able to feel the bite of the bar in order to set the hooks.
A good quality braid along with some sharp hooks will help you keep your hooks on one of these big bars. This weekend we should see some good fish caught in places like SDA Bay, White Rock and the South Arm of B. Having a few Jackall Squirrel 79SP and Molix 120 Shads will definitely put you in with a good chance of catching a barra. or two
Lake Gregory Fishing
With the hot and humid days we've been having lately we've started to see the water in the dam warming up. Fishing sections of the dam that have been pushed a lot by the wind has been the work as these areas have slightly warmer water and most of the bait.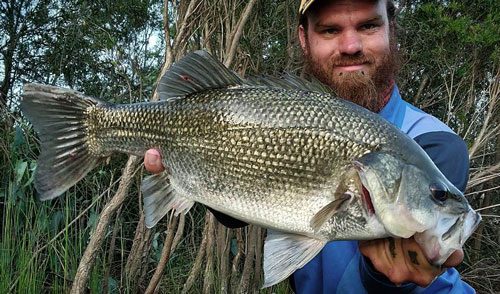 Nelson Philips with a massive 53cm bass caught on the Rapala Shad Rap Elite 75.
Hard-bodied jerkbaits twitching along weed edges have worked very well when mixed with 5-10 second pauses between twitches. Periods of low light have proven to turn on the bass with anglers catching large numbers of fish in a short period of time. Maximizing your efforts at dawn and dusk has worked very well and topwater enthusiasts have also landed quality fish from the top.
If you find schools of bass hanging out in slightly deeper water, try using a small soft plastic and slowly reel it straight through the school. This technique has worked very well with schoolies when they are a little more hesitant to bite.
CATCH OF THE WEEK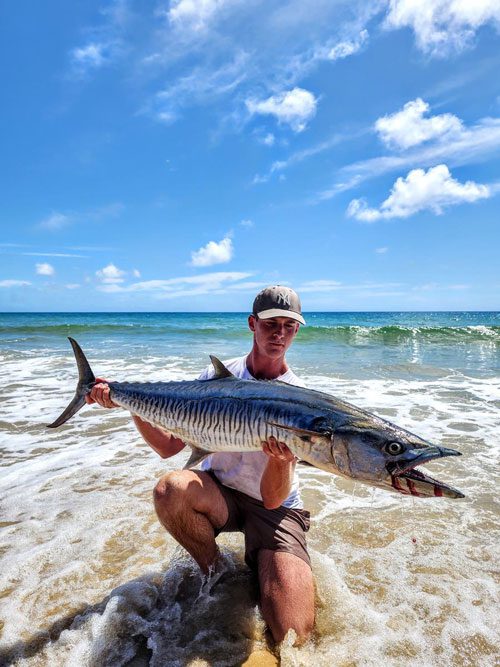 Leroy Bartlett with a 1.4m cracking mackerel caught while fishing for a shark off Kinkuna Beach! Congratulations Leroy! *Please note this Spanish was caught last weekend before the mackerel close*
From the team to Take on the World Bundaberg